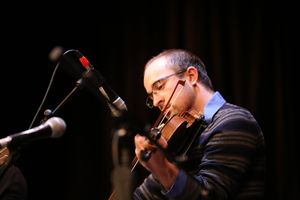 Reid Buckley - Fiddle, Mandollin, Guitar and vocals
Reid Buckley, grew up playing music with his family, and began playing the fiddle at the age of four. He switched his focus to the mandolin for a few years starting in his late teens, and has established himself as a talented multi-instrumentalist. As a kid, his family played gigs regularly, and even had the chance to perform on Good Morning America, and TNN's Prime Time Country. Having shared the stage with numerous bands from the US to Europe, he has opened for several notable artists, including Ralph Stanley, Charlie Daniels, and David Grier. Reid works as an electrical engineer. He and his wife, Kayla (Wiese) make their home in Washburn.
Keith Koch - Guitar and vocals
Keith has a great feel for guitar playing a steady background in bluegrass & country style. Keith's great lead singing has been honoed during years of singer-songwriter performing around the Washburn area. Cotton Wood was very happy to include such an established performer in the group. Keith and his wife Beth live in Mesa, AZ and Bismarck, ND.
Dan Foster - Guitar, Mandolin and vocals
Dan grew up in a family of musicians. He learned how to play while playing in church and with his family in Washington State. Dan is a solid guitarist and an exciting mandolin player. His tenor voice blends nicely with the band's harmonies and he also sings lead on a number of tunes. Dan lives in Washburn, ND with his wife Janet.
Jill Wiese - Bass, Guitar and vocals